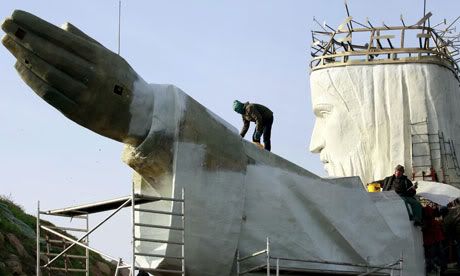 Photograph: Lech Muszynski/EPA
First can I just say that the sight of Jesus missing the top slice of his head is grotesque and disturbing? Of course once the statue is deployed, Christ's brain case won't be visible from below to the new source of revenue (pilgrims) that the Catholic priest Sylwester Zawadzki unabashedly hopes to lure to the deformed statue. Pilgrims will be drawn, he hopes, to this particular statue in the Polish town of Swiebodzin because it will be the new tallest statue of Jesus found anywhere on Earth, outstripping the famous Cristo Redentor, in Rio de Janiero by 6 meters.
I don't find religious statuary particularly interesting, especially when constructed from composites rather than artfully rendered from wood or stone, but I do find this story noteworthy because this project is not uniformly supported by local Catholics.
The project has split Polish society with some expressing pride, others derision, and with many practising Catholics calling for it to be abandoned. …

Waldemar Roszczuk, editor of the local newspaper Gazeta Swiebodzinska, has been leading a campaign against the structure, which has been compared to the type of communist-era icons that once commanded squares and public places.

"It's a monster of a statue which has nothing to do with Christian teaching," he said. "It's making us a laughing stock in the whole country."
The project has also been fraught with safety problems, charges of shoddy preparation of the foundation said to doom the statue within 20 years, and disturbing reports of convict labor organized by Zawadzki and a local prison warden.
This story so beautifully illustrates how religiosity or respect for people who are religious doesn't necessitate withholding legitimate criticism of religious-based endeavors. It is encouraging to see that the people of Swiebodzin, Catholics among them, understand this and aren't afraid to express their opinions.
Pam's House Blend – Front Page